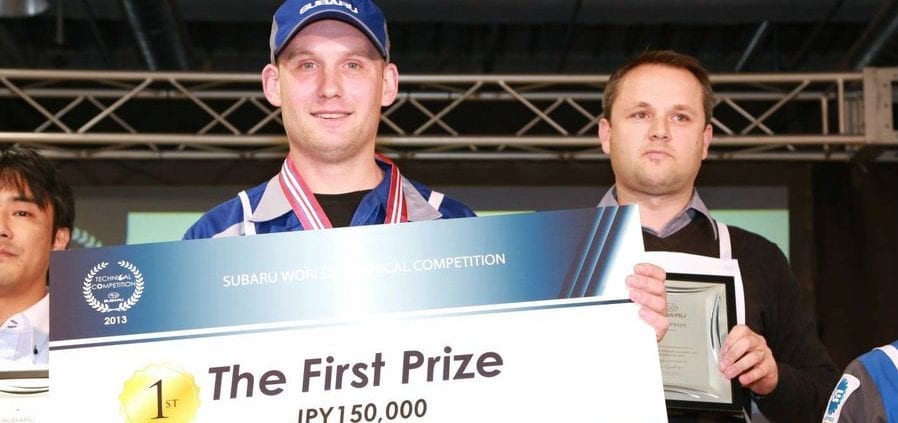 A TECHNICIAN from Sydney has taken out Subaru's global World Skills Tournament to become the first non-Japanese winner of the title.
Michael Cooper from Sutton's Subaru Rosebery took out the top prize at the tournament and walked away with a $1600 cash prize and a trophy.
The two-day tournament is run by the Japanese car-maker at its Subaru Academy in Takao, west of Tokyo, with participants coming from authorised dealers in 14 different countries.
The competition involved technicians undertaking written, calibration and electrical circuit tests as well as troubleshooting issues deliberately 'planted' in vehicles.
Mr Cooper is the foreman at Sutton's Subaru Rosebery. He started his career with the company at Bankstown Subaru.
Supporting Mr Cooper in Japan was Subaru Australia technical support team manager Andrew Fleming, while trainers Gary Pearce, Robert Car and Steve Kennett from the Subaru Academy in Sydney acted as mentors.
To be eligible for the tournament, Mr Cooper had to complete an online entry exam and a behavioural interview as well as take part in a two-day competition at the Subaru Academy in Sydney.
Subaru managing director Nick Senior said Mr Cooper should be commended on his win, especially considering how gruelling the competition can be.
"This is a remarkable achievement by Michael," he said. "He's brought an amazing honour to himself, Subaru Rosebery and our brand by not only winning, but by becoming the first non-Japanese technician to take the honour.
"The testing process entrants undergo is mentally draining, as they strive to identify pre-programmed issues against the clock, but Michael has shown fantastic strength of character and knowledge to effectively becoming the top Subaru technician in the world.
"He is to be commended for his dedication and ability."
https://www.subiedoctor.com.au/wp-content/uploads/2018/02/2013_subaru_world_skills_winner_michael_cooper_02-1203.jpg
480
898
Fusedmedia Admin
https://www.subiedoctor.com.au/wp-content/uploads/2017/05/Subie_Doctor_logo_MASTER-300x67.png
Fusedmedia Admin
2018-02-06 10:16:05
2020-06-29 14:01:46
A Sydney technician has won Subaru's global 'World Skills Tournament'